2-Day Yellowstone Tour
Authorized Permittee of the National Park Service
2-day Yellowstone Tour
location_on Destination: Yellowstone
payments Price: $650
Explore both the Upper and Lower Loop of Yellowstone National Park in two days. This is one of our most popular tours of Yellowstone; both loops in two days. Two unforgettable days in the world's first National Park… Fantastic!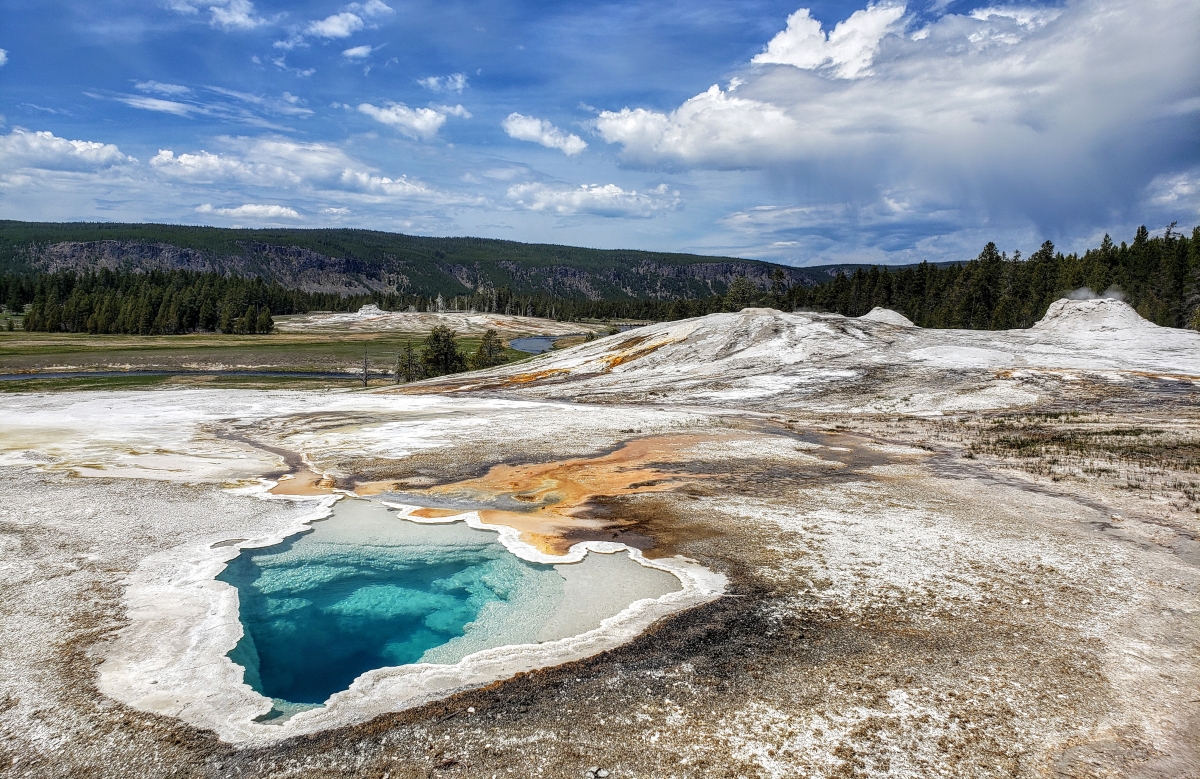 What's Included:
Professional guide
Hotel Pickup from Jackson or Teton Village
Bagged lunches for both days
Locally made granola bars and water
Use of Binoculars for each guest
Use of Spotting scope
Not Included:
Overnight Accommodations
Breakfast and Dinner
Park Entry fee. The park entry fee is $20.00 per adult, guests who have an annual pass or a golden age pass can use these passes on the tour as well.
Duration
Accommodates
Pricing
Public Trip
Two days (7:30am-6:30pm each day)
up to 8 participants
$650 per participant
Tour is limited to guests 4 years and older
Private Trip
Two days (7:30am-6:30pm each day)
up to 8 participants
$4999
Each additional participant $550
Day One!
Our day begins as we head north from Jackson, WY towards Yellowstone National Park, passing through Grand Teton on the way and taking time for wildlife and photography stops.
Wildlife that is often observed on this tour are bison, grizzly bears, black bears, wolves, moose, elk, eagles, mule deer, pronghorn, and coyotes. We will have stops throughout the tour for guests to get out of the vehicle and observe the different wildlife viewing opportunities.
Generally our first major stop will be at Upper Geyser Basin, or the Old Faithul area. The Old Faithful Geyser will erupt every ninety minutes and we will make a point of witnessing the eruption. In addition to Old Faithful there are numerous other fantastic geysers that will erupt with less certainty and frequency, which we may also have the good fortune to witness, including: Beehive, Castle, The Lion Group, Sawmill, Grand, Daisy, etc.
We will venture north making stops at most major points of interests for short and exciting boardwalks excursions, viewpoints and wildlife viewing opportunities. The Grand Prismatic Spring, Clepsydra Geyser, Excelsior Geyser crater, and the Fountain Paint Pots are just a few of the features we will visit while exploring the boardwalks through the Geyser basins.
Also features of note include the Firehole Lake Loop, Great Fountain Geyser, White Dome Geyser, Pink Cone Geyser, and more!
After a picnic lunch we will spend some time in the vehicle as we make our way North towards the North Entrance of Yellowstone. Some points of interests include Norris Geyser Basin, Roaring Mountain, Gardiner's Hole, the Golden Gate and Mammoth Hot Springs area.
After a thorough exploration of The Upper and Lower Mammoth Terrace we continue down the valley into Gardiner, Montana, passing over the 45th parallel and out of the North entrance.
Usually we head straight out to Chico Hot Springs Resort or to the lodging of your choice in Gardiner, Montana.
Day Two!
We will depart at approximately 8:00am and begin the second day of our tour entering Yellowstone via the North Entrance. On day two wildlife is a major theme as we will be spending the morning hours making our way from Mammoth Hot Springs south toward, and into Lamar Valley, scoping for wildlife along the way. Some points of interest as we approach Lamar Valley include the Gardiner River Bridge, Undine Falls, Black Tail Plateau, Petrified Tree, and onto Lamar Valley.
Considered some of the richest grassland habitat for large ungulates in the lower 48 states, Lamar Valley is famous for it's bison herds, elk and antelope herds, large predators such as the grizzly Bear and grey Wolf, all of which are a common site throughout this area of Yellowstone.
By lunch time we will have backtracked out of Lamar Valley and will continue heading south over Dunraven Pass towards the Canyon Area, with a stop at Tower Falls and numerous vantage points along the way.
We will spend some time at the Canyon Area exploring the Upper and Lower Falls of the Yellowstone River, 109ft, and 308 feet tall respectively. We will also have the opportunity for numerous short walks to overlooks into the canyon for stunning views at every turn.
We will be heading south from the Canyon area still with some ground to cover. We will pass through Hayden Valley (fantastic wildlife here, bison, bear, and wolves, a great spot to glass for wildlife), Mud Volcano area, Yellowstone Lake, and West Thumb.
We will have completed our Grand Loop at West Thumb and will continue south from there back to Jackson, usually arriving in Jackson between 6:00-7:00 pm, concluding our two days in Yellowstone.